Citymark Capital Holds Second Annual Investor Summit
Citymark Capital celebrated its second annual investor meeting.  This event, held at The Hilton Cleveland Downtown, marked another year of impressive accomplishments for Citymark.  We'd like to thank our speakers and the approximately 130 people who attended.
We heard from top economic experts, top housing experts and 2017 Nobel laureate Richard Thaler after a warm introduction from Barbara Snyder, President of Case Western Reserve University.  A recap of the main messages from each of these experts is below.
Here are some updates from Citymark Capital:
In addition to the five acquisitions announced previously, we announced that a sixth and final asset, a property located in Atlanta, will be added to the Fund I portfolio.
We deployed nearly all of the capital in Fund I within approximately one year.
The six investments that comprise Fund I were selected from more than 300 investment opportunities representing a deal flow of $4.9 billion.
Nobel Laureate in Economics Richard Thaler Amuses and Educates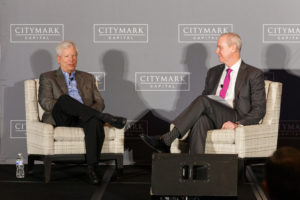 We were thrilled to have the recipient of the 2017 Nobel Economics Prize, Richard H. Thaler, as our keynote speaker. Citymark had the honor of conducting an interview-style, hour-long conversation with Dr. Thaler on stage, followed by a Q&A with our audience.
Dr. Thaler lived up to his reputation for being both entertaining and informative. He began by sharing the fateful moment when he found out he had won the prize. The call came in at 4 a.m. on his landline, which was on his wife's side of the bed. She answered it but the handset died. As she was rousing him from a deep sleep, his cell phone rang. The caller ID said "Sweden," which gave him an inkling of what was to come. Still, he said the person on the other end of the line began the call going out of their way to convince him the call was not a hoax. "I can't imagine hating someone enough to pull that stunt," Thaler said.
Thaler went on to share several interesting stories about his research and work, most with lessons broadly applicable to business. One story involved a consulting assignment with a CEO and 23 business unit leaders. Thaler asked the business unit leaders: "Suppose I offer you an investment where you have a 50% chance of making $2 Million or a 50% chance of losing $1 million. Would you take it?"
Only three of the 23 business unit leaders raised their hands. But when the CEO was asked the same question, he said he'd pursue all 23 opportunities because the collection of opportunities was almost certain to generate at least $11.5 million in additional profit.
It was revealing to the CEO that most of his team either didn't understand risk assessment or were too risk averse. The lesson, according to Thaler? "You need to create an environment where people understand risk, understand that you're going to have failures, and that it's OK to take chances."
Other Thaler lessons and predictions:
If you want people to do something, make it easy. This was illustrated by a principle put forth in a book Thaler co-authored called "Nudge". One example of the nudge principle in action is employers who automatically enroll workers into 401(k) plans, giving them the choice to opt out. One study found this approach more than doubles retirement plan participation rates from 42% to more than 91%.
You can't do evidence-based policy without evidence. Thaler illustrated this concept with a story about his work for the British government, in which several letters were written and sent to delinquent taxpayers encouraging them to pay up.  Each letter was tested against a randomized control trial. The winning letter, which resulted in vastly improved tax collection rates, told recipients: "90% of Bristol residents pay their taxes on time. You are among the 10% who don't."
Technology will reduce health care costs and improve outcomes. Thaler is particularly optimistic about the role he believes technology will play in increasing the degree to which people take prescribed medication as directed, such as for heart disease and diabetes. For example, technology already exists that can notify a user of low blood sugar levels through an alert on their phone.
Panel of National Real Estate Experts Bullish on Multifamily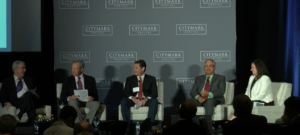 CBRE Senior Managing Director Peter Donavan moderated a lively panel discussion featuring several national real estate experts, including National Multifamily Housing Council President Doug Bibby; PGIM Real Estate Finance Managing Director Mike McRoberts; Beekman Advisors Managing Partner Shekar Narasimhan; and Freddie Mac Senior Director Amanda Nunnink.
All agreed that demographic trends will continue to drive strong demand for multifamily housing, making it likely to be one of the most favorable of all real estate investment segments over the next several years.
Bibby referred to the NMHC Vision 2030 report which found 4.6 million new apartments will need to be built by 2030 to keep up with growing demand.  Demographic trends driving the demand for rental housing include:
Young adults facing financial constraints brought on by unemployment and stagnant wage growth, as well as high student loan burdens.
The delay of marriage and families among Millennials.
The lack of new starter homes being built.
Nearly a third (31.5%) of young adults living at home with their parents, creating pent-up demand for housing options.
Baby Boomers wanting to downsize.
"People have to live somewhere, and 36% of them will live in rentals," said Shekar Narasimhan. "When looking at risk adjusted returns of multifamily, where else can you get that kind of return on investment?" said Mike McRoberts.
Economy Forecast of 2.7% Growth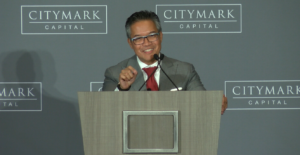 REIS Inc. Chief Economist Victor Calanog provided a national economic outlook. Below are a few highlights:
The economy will grow 2.7% for the year, possibly up to 3.0% on the upside.
Trade policy is a headwind.
Infrastructure spending is unlikely to be implemented this year.
Growth and inflation expectations are up, leading to higher interest rates.

One Cleveland Center
1375 East 9th Street Suite 2880
Cleveland, Ohio 44114
Phone: 216-453-8080
E-mail: Info@citymarkcapital.com